August 24, 2015
After 40 plus years as co-manager of Hutchins Farm with his brother Gordon, John Bemis retired at the end of May this year. Gordon is now the sole manager of Hutchins Farm LLC.
John thanks the Town of Concord and the generations of Hutchins customers for their years of support. He is especially grateful for the legions of young workers who have brought their enthusiasm, energies and friendship to the farm.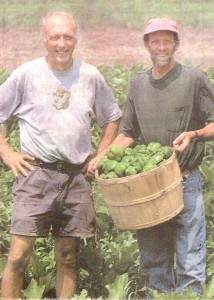 John and Gordon Bemis in the Boston Globe: August 15th, 2001.
John Bemis Retirement Announcement