With winter in full rout, our fields thawing and slowly drying, the unmistakable color and aroma of freshly turned earth evident in the high and dry areas of the farm, we embark on another season. Our overwintered parsnips have been dug, and are available on the front porch self-serve. They are incomparably tender and sweet, and remarkably versatile for such a relatively unknown vegetable—roasted until caramelized, pureed in a creamy soup, chopped into a chicken soup, shredded and fried, mashed with potatoes: now is the time to enjoy them at their very best. They are in bags of between two and a half and three pounds for $5.  If you plan to store them for any length of time, make sure to cut out the growing point (where the leaves emerge at the top). By this weekend, the first of the hardy garden plants will appear on the front porch as well – lettuce, kale, cabbage and onions to start. The roster will grow as the weeks go by, so be sure to check our website (www.hutchinsfarm.com) for what's available.
A bit of a housekeeping note: we are (slowly) transitioning away from our old earthlink email to a new Hutchins Farm one – info@hutchinsfarm.com. Future newsletters will be sent from this new account, so if you filter your emails, please allow this new email address into your inbox!
As we mentioned in our last letter, the bagged compost and potting soil from McEnroe Organic Farm has already arrived and is available now on the front porch. This season, compost will be $8/bag or 4 bags for $30; potting soil will be $10/bag or 3 bags for $28. Make sure you check the bags carefully to be sure you're getting the right thing—the compost and potting soil bags look quite similar.
Asparagus shouldn't be too far off! Please check our website for updates as we get closer. We are in our final year of documenting our management of the McGrath fields under organic care (year three of three), so this will be the last season we are required to call them "transitional" instead of "certified organic". Please remember they are grown exactly the same way as all our certified crops. We are thrilled to continue Pat McGrath's asparagus legacy and are grateful to the town for the lease on that wonderful piece of land.
This season we welcome back many familiar faces, and we are joined by some new ones! While we will miss our long time harvest manager Ellen Schramm who left to join her family in the Pioneer Valley, we welcome Ryan McGuire, who made the move to Hutchins all the way from Oregon. This year, in the newly formed positions of apprentices, we welcome Dylan McGurn and Hannah Tremblay to the farm team – if you see them around, please say hello! We're back at it over here on Monument Street, working to bring all our combined energies and enthusiasm to our common goal – to provide you with the freshest, finest food you can find anywhere. Please continue to check in with us online as our offerings grow!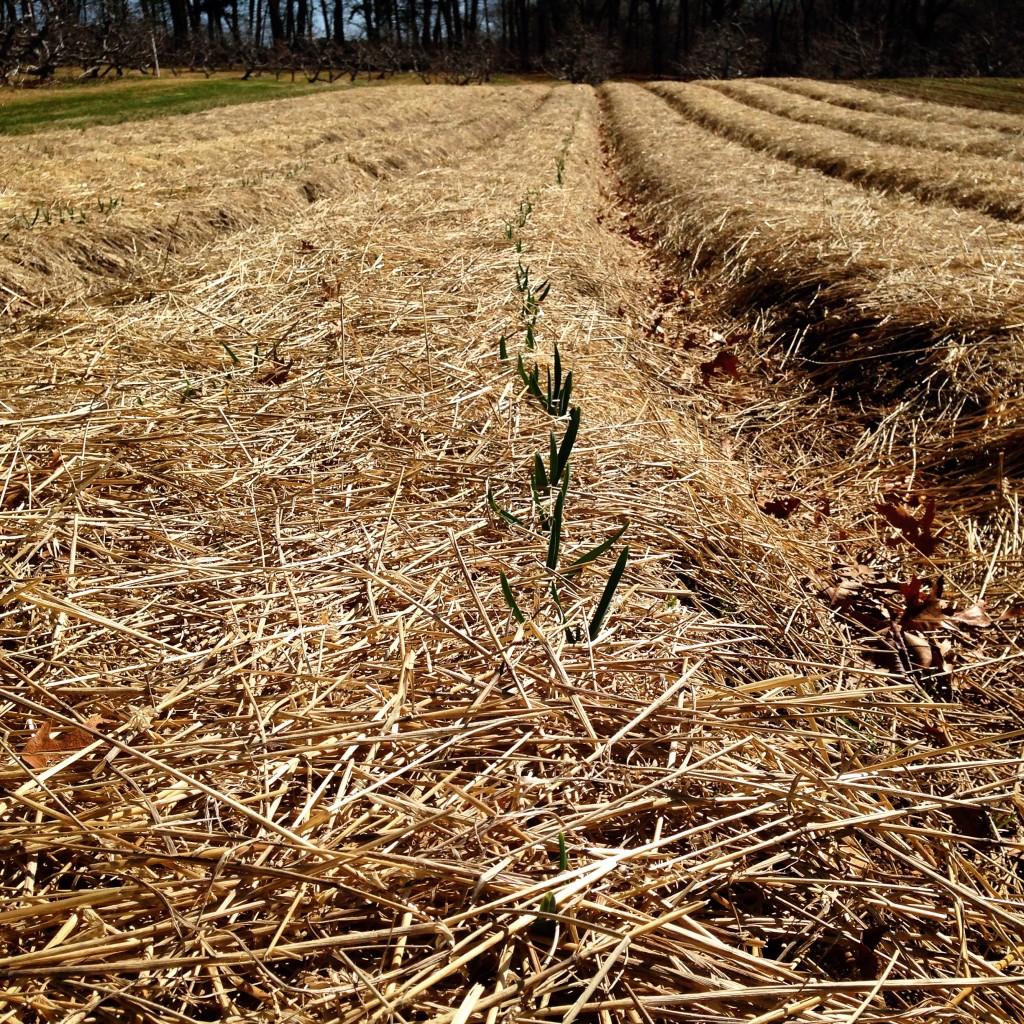 Garlic growing!
Self-Serve Porch offerings begin