Although the weather makes it seem like the growing season is a long way off, signs of spring are slowly appearing, and the untidy remnants of winter are receding into the shadows where we still stumble on them unsuspecting, grateful for the warmth, light and life that are surely coming. 
            Among the first stirrings of spring is the sprouting of parsnips. Nourished by sugars stored last summer in their now-prodigious roots, they begin to send up a few leaves in preparation for their second, final, reproductive season (they are biennials—growing vegetatively for a first season, then flowering the second).  Dug at this stage, before they convert their stored sweetness to sexual expression, they are incomparably tender and sweet.  Left in the ground a few more weeks, they would turn tough and woody, but now they are at the peak of perfection—and we have just dug and washed the two beds we left to overwinter.  As long as we avoid anthropomorphizing their sexual frustration (and their horror at being eaten) we are left to guiltlessly enjoy this brief, seasonal treat—delicious roasted, incomparable fried (try them shredded like latkes), sublime pureed or steeped in soup, a true delight in long simmered stews.  And, if I do say so myself, this is the nicest crop of parsnips I've yet seen. We'll have them available self-serve on the porch for the next week or two in bags of between two and a half and three pounds for $5.  If you plan to store them for any length of time, make sure to cut out the growing point (where the leaves emerge a the top).
            Other self-serve items currently available include bagged compost and bagged potting soil from McEnroe Organic Farm in upstate NY, which has also been the source of the potting soil we use for our own plants for many years. Potting soil is available in 22 qt. bags for $10 each, or 5 bags for $45.  Compost is available in 40 lb. bags for $9 each, 5 for $40.
            Likely to appear during the course of the next week or so are the first, hardiest garden plants.  We'll begin with lettuce, kale, cabbage, and onions, with a growing roster of plants as the weeks go by.  A more or less complete list of variety descriptions, and predicted availability dates, should be available on our website in the next day or two.
            Also among the long-awaited signs of spring is the emergence of the first spears of asparagus. As cold as it has been, we're likely a little ways off from this momentous event, but a few warm days will go a long way toward goosing the asparagus out of its slumber. I'll send out another (shorter) message when the asparagus arrives.
            We are planning on (finally) paving our parking lot sometime in the near future, which will entail closing access to our self-serve items for about 2-3 days.  As soon as we know them, we'll include the dates in our phone message and post them online so customers can check and make sure they don't make a wasted trip.
            We hope all of our faithful (and unfaithful) customers had the best winter they could, considering the circumstances.  Some unlooked for benefits of our long, cold travail include the forementioned parsnips, but may also include a robust crop of (cold-loving) garlic, and a reduction in the populations of some pests.  Doesn't seem like adequate payment for the ordeal we've been through, but by the time we're enjoying fresh garlic, the winter will be a mercifully distant memory.
Brian Cramer
Farm Manager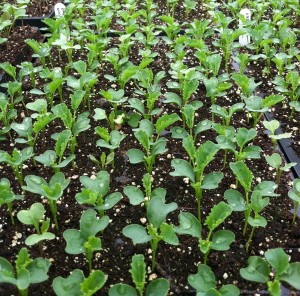 baby kale in the greenhouse
Hutchins Farm April 2014 Newsletter