Today we have a recipe from crew member, and blogger at afarmerinthedell.com, Andrea!
Beetza!
Ingredients:
Homemade or store bought pizza dough
4 large beets. Boiled
1 small bunch curly kale, torn into bite sized pieces
1/2 cup goat cheese, plus a little more for crumbling
1 tbs olive oil
1tsp salt
1/4 cup Parmesan
1/4 cup crushed walnuts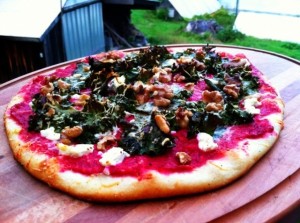 Instructions:
-Preheat the oven to 425 degrees
-Purée your beets, goat cheese, salt and oil
-Spread beet mixture over pizza dough
-Layer goat cheese crumbles
-Layer kale
-Shred parmesan on top of pizza
-Drizzle with more olive oil
-Bake for ten minutes
-Remove from oven, add walnuts
-Bake for 2 more minutes
-Enjoy!

(oven times may vary, please don't burn your beetza!)