Punkatasset Hill has been home to farmers for generations. Rumored to have been the hill where the revolutionary Minute Men gathered waiting for the British Red Coats before the battle of Concord, the land was designated as farmland on maps as early as 1775. Hutchins Farm's history on this land begins in 1895 when Charles Hutchins, a retiring minister from Medford, Massachusetts, purchased the farm. Originally known as Punkatasset Farm, it was a large diary operation that shipped milk into Boston by horse and cart.
Charles' son, Gordon Hutchins, had been a high school teacher and went on to graduate from the Cornell School of Agriculture.  In 1912 he took over Punkatasset Farm from his father.  Over time Gordon Hutchins diversified the farm and added nearly 50 acres of apple orchards, 12 acres of asparagus, and a handful of other crops.  Apples were stored in West Concord, sold to local stores and shipped into Boston, and were also sold by the barrel directly to individuals.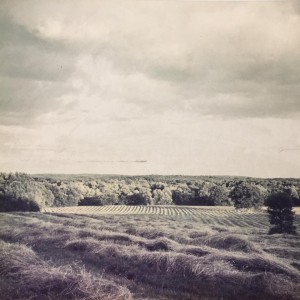 Gordon Hutchins had two daughters, neither of whom married farmers, and in the early 1950's commercial farming ceased at Punkatasset Farm. While some of the land was leased out for haying, the apple orchard was cut down, and much of the original farm was sold: some to the town of Concord, some to Harvard University, and some to private landowners.  Throughout this time the homestead on Punkatasset Hill remained in the family and this is where the two grandsons of Gordon Hutchins (Gordon and John Bemis) were raised.
Gordon Bemis developed a passion for ecology and organic agriculture while still in high school. He spent summers working at different farms in New Hampshire and for the Verrill family dairy in Concord.  He initially pursued a degree in engineering after high school but the farming bug had bitten.  He began Hutchins Farm as a large market garden in 1973, selling to co-ops in Cambridge and Boston.  John Bemis had gone into the Peace Corps after college and later studied architecture.  In 1975 John joined Gordon in expanding the market garden and building Hutchins Farm.
From the beginning, Gordon's commitment to ecology meant that their farming practices would be organic.  Not only was organic farming physically challenging in the early 70's but it also defied the conventional mindset about farming at the time.  The decision to grow their produce without resorting to synthetic fertilizers and pesticides was initially met with skepticism from the general farm community.  Today, organic is not only an accepted practice but much sought after because of its benefit to the health of the earth, the worker, and the consumer.
Gordon and John have always been passionate about having the word organic mean something to the consumer, and were involved in early projects in organic certification. Hutchins Farm was part of the first pilot project by NOFA (Northeast Organic Farming Association) to certify organic farms in 1986, and became USDA certified in 2000 when the national laws replaced local certification.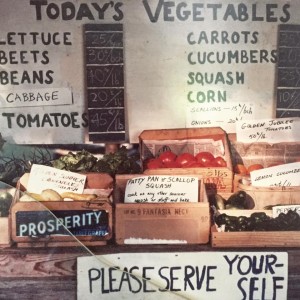 The first farmstand was built by John and Gordon in 1974 and originally operated as a self-serve outlet for the surplus food left over after their orders from food co-ops, restaurants, and stores in Cambridge and Boston were filled.  The current farmstand was built by John and Gordon in 1986 and still serves the community and farm today.  In 2005 Brian Cramer joined the Hutchins team as Farm Manager, taking over the daily and seasonal management of the farm. In 2011, Gordon's daughter Liza Bemis returned to the farm full time to mange the retail operations. These days all of the produce grown is sold at the farmstand, local Farmers' Markets, and to a small select number of restaurants.  What is not sold is donated to charity. Hutchins Farm works with a number of local charities including Rosie's Place, Food for Free, and the Boston Area Gleaners.
In addition to the main farm, Hutchins also rents two properties from the Town of Concord – a 15 acre parcel called the Peter Spring Farm off of route 62, and a 12 acre parcel off of Barrett's Mill Road on the former McGrath Farm. Hutchins Farm shares the Peter Spring Farm with the endangered Blanding's Turtles. As part of our lease, we maintain approximately 5 acres specifically so the turtles have a nice nesting habitat.
John retired from co-managing the farm business in 2015, although he still is an owner of the operation. Gordon continues to manage the business, but he no longer works seven days a week.  Hutchins Farm has been fortunate to have legions of talented, dedicated, and hardworking employees over the years, many of who have gone on to start their own farming operations, or whom have dedicated their careers' to improving agriculture or environmental causes.  The current Hutchins Farm Crew is working hard to provide our customers with the very finest fruits and vegetables, produced sanely and safely with respect for our land, our employees, and our customers' health